As technology continues to evolve, so does our reliance on electronic appliances. From smartphones to laptops, vacuum cleaners to power tools, our daily lives are becoming increasingly dependent on these devices. However, with the growing concern for sustainable energy solutions, there is a need for innovative power sources that are both convenient and environmentally-friendly. One such solution gaining popularity is the bike power battery.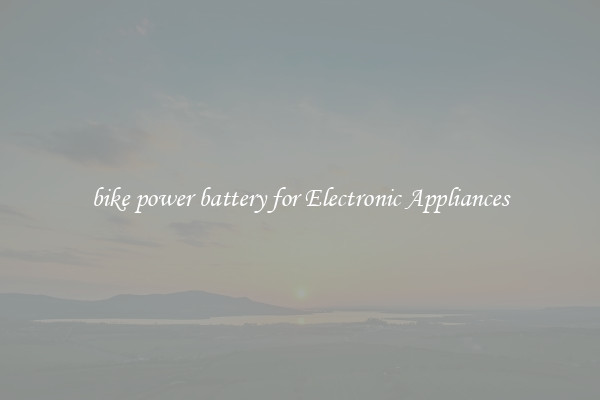 A bike power battery is essentially a portable energy storage device that can be charged while riding a bicycle. It harnesses the kinetic energy generated from the movement of the wheels and converts it into electrical energy, which can then be used to power various electronic appliances.
The principle behind a bike power battery is relatively simple. As you pedal, the wheels of the bike rotate, causing an attached generator to spin. This spinning motion produces an electric current, which is then captured and stored in a battery. Once the battery is fully charged, it can be detached from the bike and used as a power source for electronic appliances.
There are numerous advantages to using a bike power battery. Firstly, it is a sustainable and eco-friendly solution. Unlike traditional batteries, which rely on non-renewable energy sources, the bike power battery utilizes clean energy generated by human effort. This cuts down on carbon emissions and reduces our carbon footprint.
Secondly, the bike power battery promotes physical fitness. As we pedal to charge the battery, we engage in physical exercise, which is beneficial for our overall health and well-being. It presents an opportunity to incorporate exercise into our daily routines, making it a win-win situation.
Furthermore, the bike power battery is highly convenient and portable. It can easily be attached and detached from the bicycle, allowing users to charge it while commuting or running errands. This means that you can charge your battery on the go and have a source of power readily available for your electronic appliances wherever you are.
The applications of bike power batteries are diverse. They can be used to charge smartphones, tablets, laptops, and other small electronic devices, ensuring that you never run out of power while on the move. They can also be used to power appliances in campgrounds, outdoor events, or during power outages.
In conclusion, the bike power battery is an innovative solution that offers a sustainable and convenient way to power electronic appliances. By harnessing the kinetic energy generated from pedaling, it provides clean energy and promotes physical fitness. As we continue to embrace sustainable energy solutions, the bike power battery is a promising development that can benefit both individuals and the environment.